Matt Grossmann
I am Associate Professor of Political Science at Michigan State University. I received my Ph.D. from U.C. Berkeley. My research concerns American politics and policymaking, especially interest group representation and influence, political networks, campaigns, and federal policy change in the United States. This year, I am teaching Policy Issues, Political Parties & Interest Groups, and Evaluating Evidence in Social Science.
Tweets by @MattGrossmann
My first book,
The Not-So-Special Interests: Interest Groups, Public Representation, and American Governance
, was published by Stanford University Press. The book explains why certain public groups, such as Jews, lawyers, and gun-owners, develop substantially more representation than others and why certain organizations, like the National Rifle Association, become the presumed spokespersons for these groups in all types of media and all branches of government.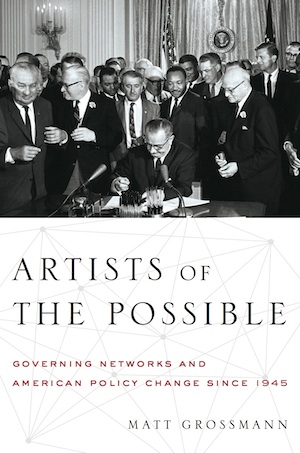 My new book, Artists of the Possible: Governing Networks and American Policy Change Since 1945, is now available from Oxford University Press. The book argues that significant policy change arises from coalitions and compromises among institutionalized policy entrepreneurs, including presidents, interest groups, and long-serving senators. The project relies on a content analysis of 268 books and articles on the history of 14 different major policy areas over 60 years, compiling and integrating their findings to assess the factors that drive policymaking. I show that policymaking is insulated from external pressure in all branches of government and policy output fails to respond systematically to public opinion and election results. I have published journal articles on policy change, issue area differences, political party networks, interest groups, the legislative process, negative campaigning, the consulting industry, group theory, ethnic representation, environmental organizations, technology policy debates, campaign professionalization, and public opinion about campaigns. My research appears in the Journal of Politcs, American Politics Research, and twelve other journals. I am also co-author of a Campaigns & Elections textbook (W. W. Norton) and editor of the volume New Directions in Interest Group Politics (from Routledge). In addition to academic work, I wrote a state commission report on the use of the Internet in political campaigns and co-authored a book on campaign strategy for practitioners. I also serve as the director of the Michigan Policy Network, an outlet for online reporting and research on state policy by MSU undergraduates.